---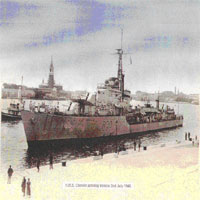 As war broke out in 1939, the job of a destroyer was to fight against enemy surface vessels and to protect their own ships using torpedoes and guns. Experience of the complexity of pre war destroyers and their increasing size, led the British Admiralty to plan simpler and cheaper ships. The resultant J class proved successful but wartime called for even greater speed of building and standardisation. Slow production of twin 4.7inch gun mountings and the availability of a new 4.5inch gun with semi-automatic firing, brought about the instillation of these and with a slightly smaller hull, the C class destroyer and in particular the CH group and HMS Cheviot was born. Two vessels of this class were launched in 1944 by the Clyde yard of Stephen and Sons Ltd, HMS Chevron and the Cheviot (2/5/44).


The ships displaced 1,720 tons, carried four 4.5inch guns, four 40mm and four 20mm anti-aircraft weapons along with four 21inch torpedoes. These latter had a range at 40 knots of 10,000 yards or at 35 knots 14,000 yards and carried a 750lb warhead. Her crew of 186 lived aboard where, on a length of 362ft and with engines of 40,000 hp, the ship could reach 36 knots on a good day. By making the engine room more compact the ship only needed one funnel, this allowed more deck space. These were not the most successful class of destroyers built but they proved adequate in the Mediterranean and North European waters.


A near sister vessel has survived and only recently left the Tyne, HMS Cavalier. For 11 years the ship was at Hebburn while unsuccessful attempts were made to fund her as a museum vessel. She has now gone to Chatham, Kent where she is on display. As the last steam powered W.W.II destroyer she is a vital memorial of her type.


In the Royal Navy great store is laid on tradition and continuity in ships names, so much so, that towards the end of W.W.II, a new committee was made responsible for recommending them. Fighting names dating from the Elizabethan era, continue to be chosen today, Ark Royal and Revenge (a modern submarine). The kings, Henry VII and VIII, chose Royal Sovereign and Lion. Classical names were popular, Agamemnon the king of Mycenae who commanded the Greek army during the siege of Troy and Bellerophon a Greek hero who, with the help of the winged horse Pegasus, slew the monster Chimaera, sailed the seas as British battleships.
To celebrate battles, Agincourt was among those chosen, commemorating the victory of Henry V over the French in 1415. Admirals of the Fleet received recognition as with George, Lord Anson (1697-1762). The 1st Anson dated from 1736, the 10th a W.W.II battleship from 1940. In some cases the continuity of a class was maintained by using the same starting letter or as the case with Cheviot, two letters. The other ships of the group were Chaplet, Charity, Chequers, Chieftan, Childers, Chivalrous and her yard mate Chevron. When King George VI, as a new king, was asked for his input to a class of five battleships, he chose King George V to commemorate his late father, Duke of York as his last title, Prince of Wales his brother and Anson and Howe made up the quintet.

The Cheviot was completed too late to see war service. Subsequent modifications (1953) resulted in one 4.5in gun and the forward torpedo tube, each being replaced by a "squid", an anti submarine, ahead throwing depth charge with a 300lb warhead.

In 1946 she went to the Mediterranean and was based at Malta with the First Destroyer Squadron. Patrols, for illegal immigration ships trying to get to Palestine, continued until 1947. During the early '50's she visited various countries around the area and was in the Suez Canal during the uprising against Egypt's King Farouk where she escorted merchant vessels and was in fact in the Great Bitter Lake when King George VI died in 1953. Leaving Malta in September 1954, she arrived at Chatham on the 17th to be paid off and prepared for the reserve fleet. In the event she was sent to Singapore to refit in May 1955. From December 1956 to October 1958 Cheviot was in the Far East with the 8th Destroyer Squadron after which she came home.

---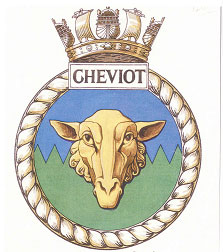 As a private ship Cheviot sailed to the Clyde and spent six weeks as a target for around 100 dummy torpedoes. One of these hit and broke off a piece of one of her propellers resulting in severe vibration on her trip back to Portsmouth and the reserve fleet. In March 1960 she served as a tender to the Caledonia training establishment at Rosyth and on 22 October 1962 she arrived at Inverkeithing for scrapping.

For more information contact phil@coquetdale.net